So the last few auctions I saw managed to get away from me, including that awesome one with all of the marketing goodies, so I had to make sure to snag this one. Spent slightly more than maybe I should have, especially since the following for these is probably down to a skeleton crew, but I am happy.
I am beginning my planning for a build in it, although I do love seeing it as Voodoo left it. It would be cool to somehow keep the Voodoo engraved water blocks on the next one but I don't see that working out. Maybe I will make some coasters or something...
The case was missing the bay cover and flip down disc drive covers, but luckily enough Lian Li still makes them, so I have those on the way. I probably won't have two disc drives on the next build (if any) but it is good to know I will have them in the back pocket.
I am in Colorado, and soon to move to Boulder, so I find it a little amusing that it will be relatively close to the old Fort Collins shop. Anyway, a couple pictures, complete with remnants of the packaging on the floor: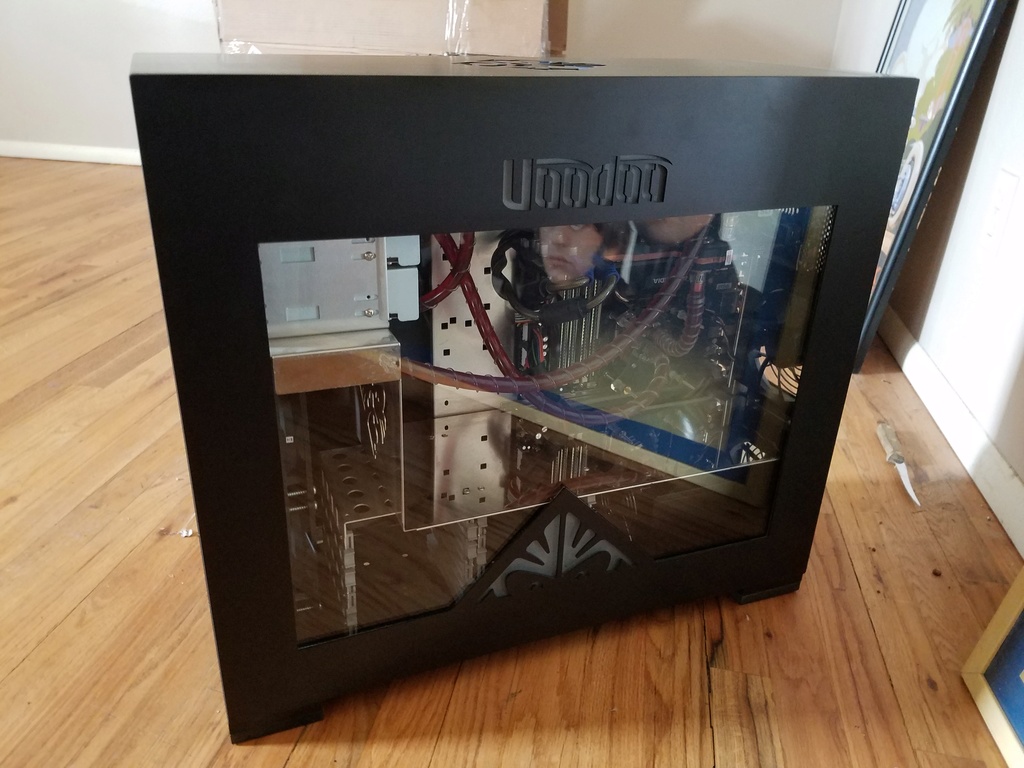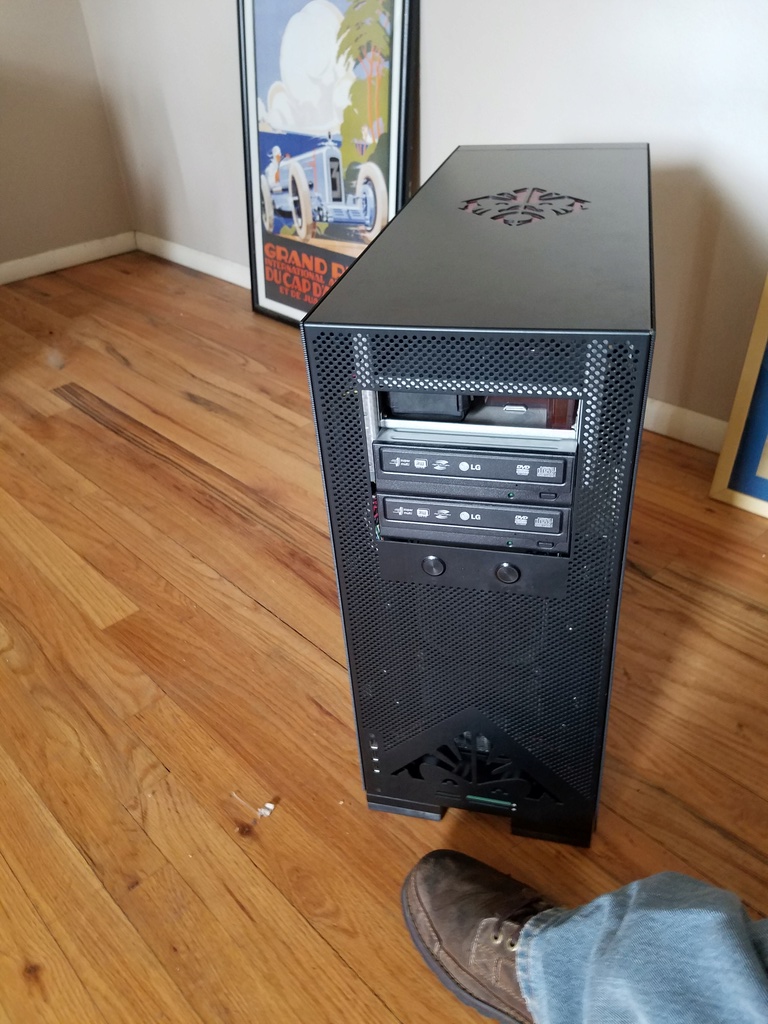 The foot was included to show a friend of mine how big it was haha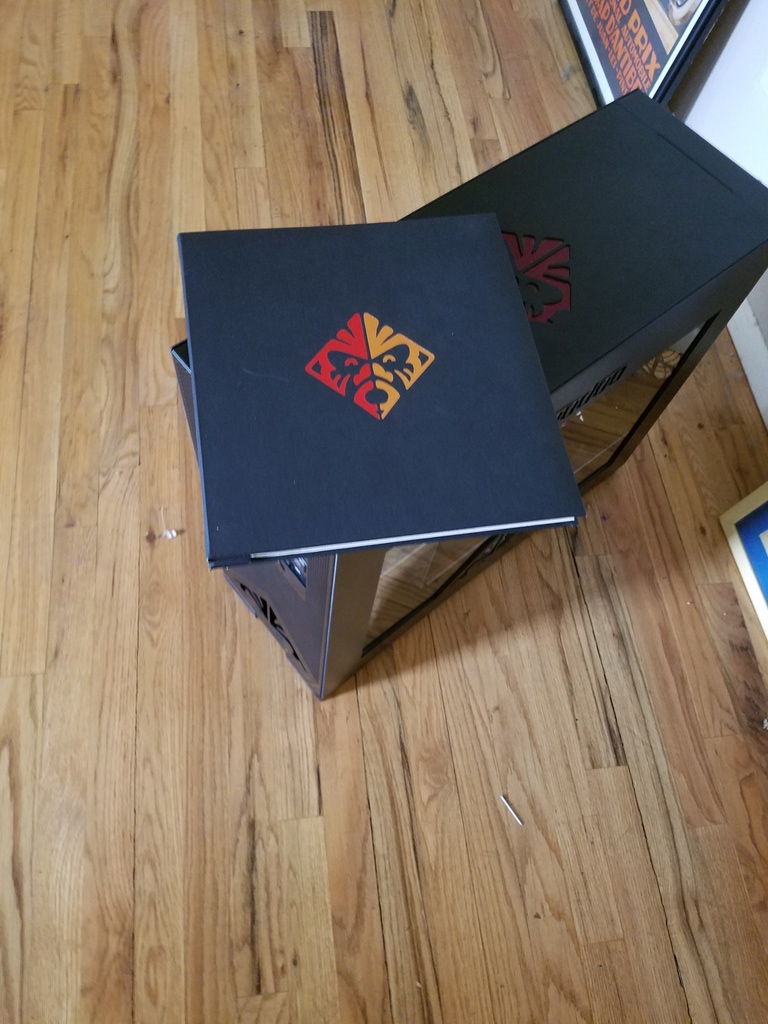 That was you? Congrats, sorry for bidding against you. I was disappointed that I didn't put thousand in it haha. Its nice to know that you're on this forum.

I'm still on my quest to find a case. Hopefully one will turn up somewhere soon. Are you going to try to keep the original look by updating the hardware to modern pieces?





Posts

: 4


Points

: 483


Join date

: 2017-03-25



Well, I will admit after the last OMEN with the whole 'Out of Box Experience' and extras got away on ebay in the last few moments of auction, I may have adopted that method of last minute bidding. Sorry about that, I was pretty determined this time haha.

Yeah I am going to keep it looking the same way it does, apart from putting the missing disc drive covers and blank 5.25" bay cover on, but those are original Lian Li parts so it will literally just bring it back to the stock look.

I must admit, being that I am not a game designer and I don't find myself mining data or bitcoins, I don't think I will do the multi-gfx card thing in the build I put in here. I will probably try to salvage the liquid cooling though, just on a single GTX 1080 or something. Thinking the Ryzen 1700X and a 1080 would be pretty nice. I have a few SSDs around and the case has 1000W, so i think all I would really need is water blocks for the CPU and GPU, and some new fangled modern ram. that's the plan, tentatively.
That's an awesome plan! It looks like you're all set! Please post pictures of your awesome build!



Posts

: 4


Points

: 483


Join date

: 2017-03-25



Looks good, I still haven't decided what GPU to put in my Omen. I got a Motherboard that can do 3 way sli and 2400K i5 that is water cooled and 16gb of ram in it, but still haven't even tried to power it up yet.



Posts

: 771


Points

: 3498


Join date

: 2011-05-08


Age

: 40


Location

: Northeast Louisiana






Posts

: 100


Points

: 3070


Join date

: 2010-08-05



So, this is a bit of a silly question, but I am not really familiar with this sort of liquid cooling system. Specifically... how do I re-fill the reservoir without spilling everywhere? It is the stock Koolance one that came in the PC.
So the day came that I got all my parts (or most.. hurry up EK!) to re-build this thing. I know it sounds silly, but I felt like kind of a monster tearing this thing up. It was dutifully running like a champ still. Kinda tugged at the heart strings.  

But I did buy it to do this in the first place, so it was bound to happen.
I might make some coasters from the GPU waterblocks or something. I cant just throw it all away.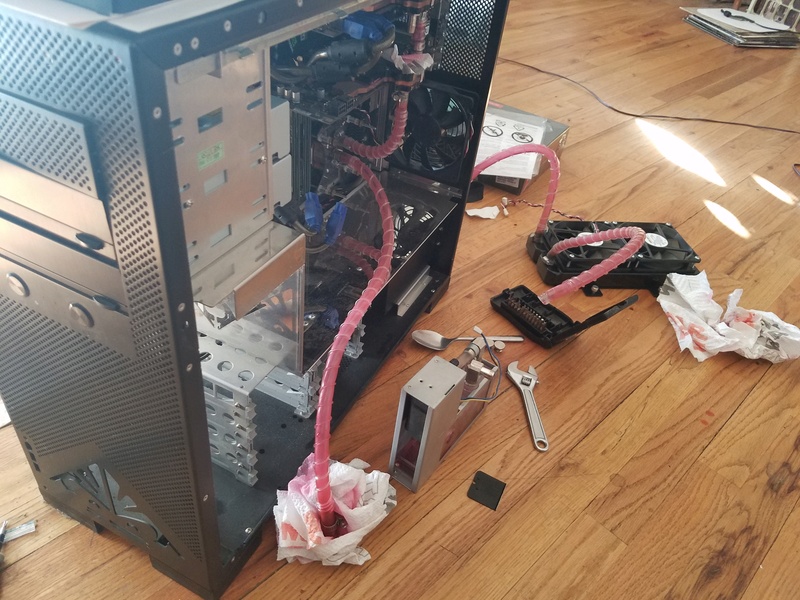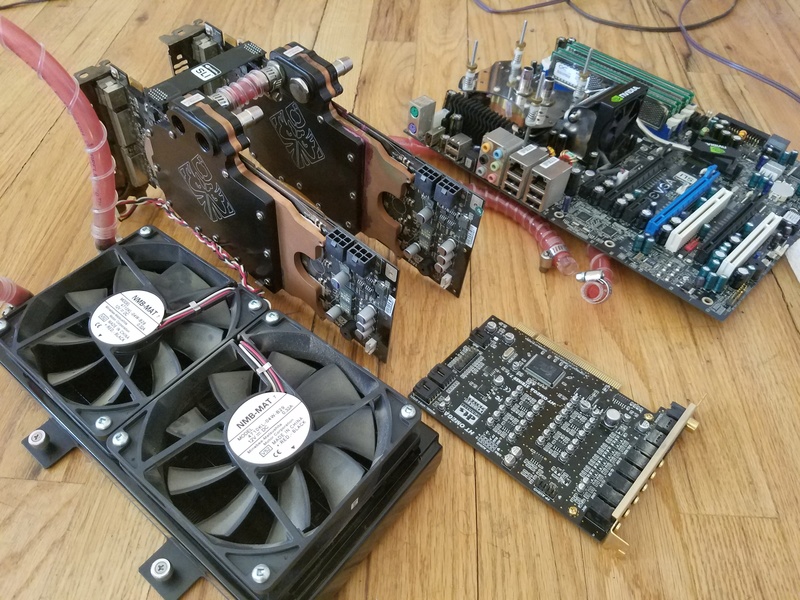 I have one of those in the shed. Got it off ebay. 8800 Ultra card with Voodoo water block. Always wanted to make a adapter and use it on another GPU even if it was just a cover. Looks like you are off to a good start.



Posts

: 771


Points

: 3498


Join date

: 2011-05-08


Age

: 40


Location

: Northeast Louisiana



This is a bit of a late update, but here is what she looks like now. Kind of a rats nest of audio cables under the desk right now haha, but ah.... mostly out of sight, mostly out of mind?
I went a little overboard with the Omen bits. I have been mostly bitter and avoided buying HP's products with voodoo names, but recently they have made some pretty cool stuff.
The headset is amazing and really low priced for how good it sounds. And the monitor... was really expensive.. but its 100hz at UWQHD res, and it looks amazing! Most of the high
end monitors seem to be like ASUS and have plastic chrome and red B.S. all over them.
If you are in the market for peripherals... I'd steer clear of the keyboard. its... meh. Also the listing I bought it from said it was mechanical, and it is definitely not. The mouse is decent.
Anyway, here are some pictures.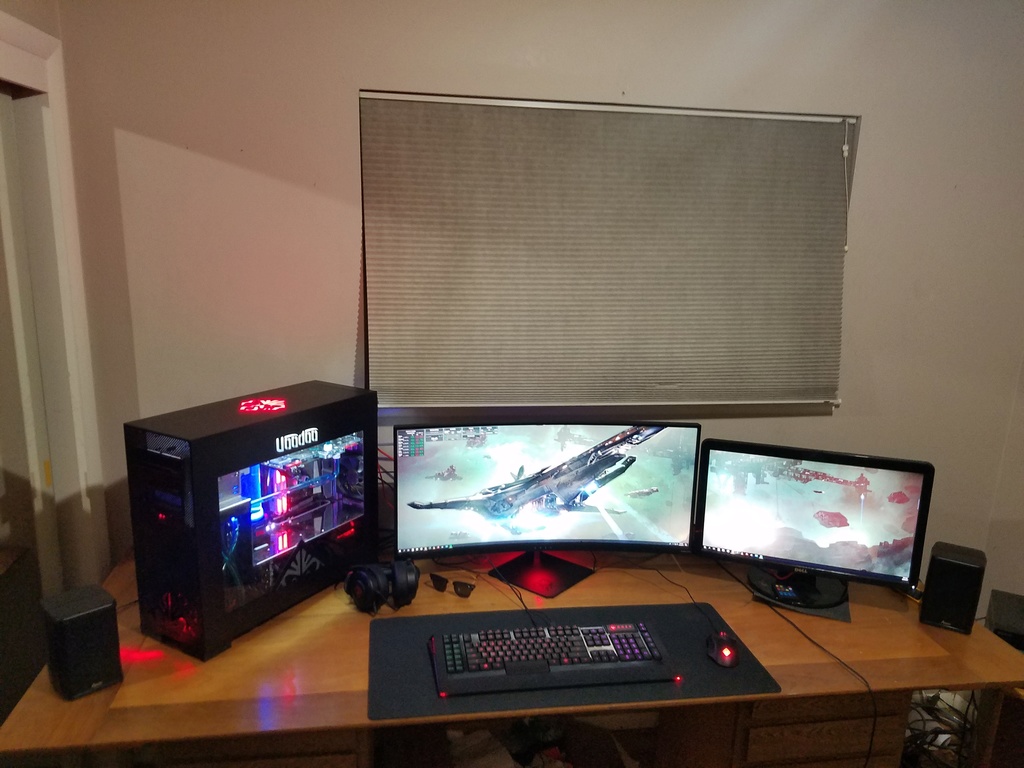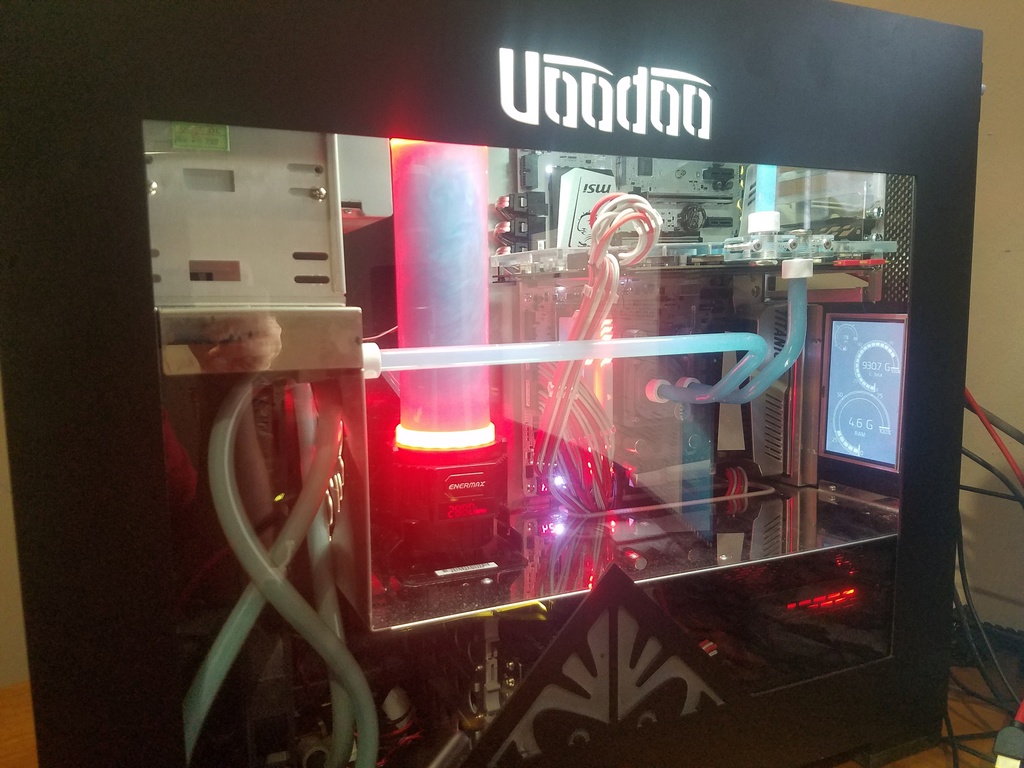 Similar topics
---
Permissions in this forum:
You
cannot
reply to topics in this forum